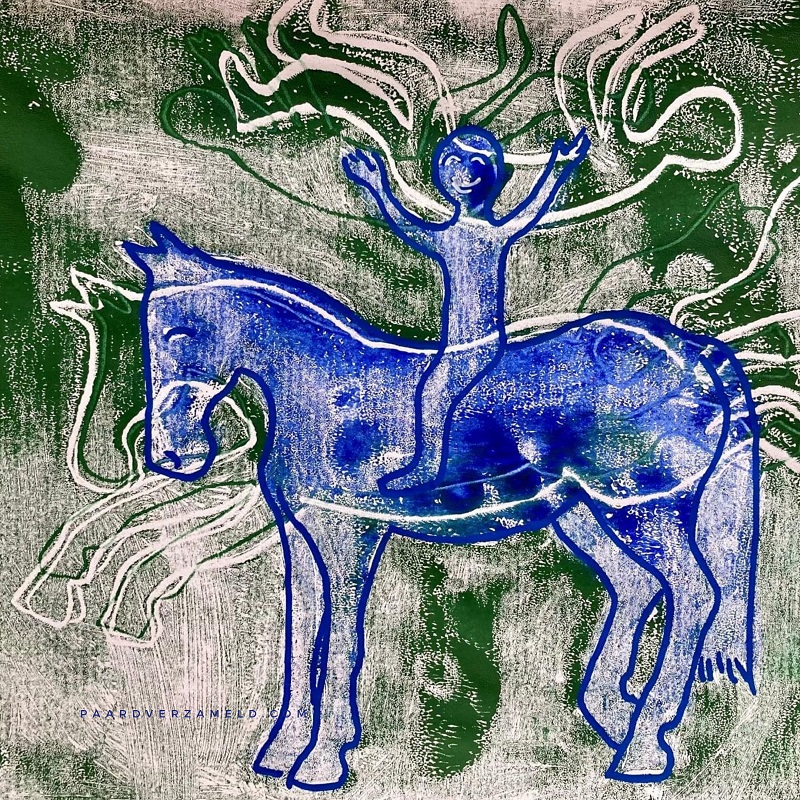 The aim for the Swedish artist Li Gessbo is to convey with her art a feeling and for this reason she always uses horses as models: the beauty, the strength, the safety, the dreams horses bring to us.
She wants to explore the feelings horses can awaken in us and she wants to express the interdependence between humans and horses. Li also asks questions to herself about the experiences that horses, and humans can share: we are living in the same world, we are different, but perhaps are we more similar than one would think?
The horse is a symbol of courage and freedom and a creature that we can project both our dreams and fears on.
"In my art I want to let emotion and intuition control the creative process and I work consciously to focus on the expression of feelings and not to illustrate reality. Me and the canvas talk to each other in the creative process. I rarely sketch, the works often emerge intuitively. I move in the borderland between abstract and figurative art."
Li has always been around horses, raised in a family where she and her siblings have been competing in eventing, show jumping and dressage. Still today, she trains and competes in dressage. This discipline is a horse-human relation that inspires to her art.
The Swedish artist thinks that horses have always been the source of her mental comfort and safety, but at the same time she has been exposed to physical risks and injured a lot of times. So, this relation arouses mixed feelings.
Li has always created images or art in different ways. "As a child I got to do murals at school, as a teenager I sold animal portraits, I trained and worked as a science illustrator and as an art teacher. When I finished as an illustrator, I felt a strong desire to be able to paint and create completely freely so, I have been doing this for a few years now."
Each artwork is a unique piece of contemporary art, it doesn't look like anything else.
Something about Li Gessbo and her equine art
Li Gessbo has a Bachelor of Education Degree - Science and Art (Uppsala University) and a Bachelor in Scientific Illustration (Mälardalen University). Because she wanted to create art that focuses on emotion and not to depict objects, she decided to leave the job as an illustrator.
In recent years, Li has taken courses in creative drawing, mixed media, concrete and marble sculpture. But painting is still her main field. She has her own exhibitions, or she participates in exhibitions around Sweden about 4-5 times a year. Her art is sold mainly to Swedish buyers, but also to other countries.
In the fall of 2021, the New York-based piano composer Margin Alexander presented her art with 3 minutes of specially composed music. It was performed live in Manhattan, New York.
She has grown up with horses, and still today she trains her horse, and they compete in dressage together. Horses have become her main motif in her art.
Li is a member of Svenska Konstnärsförbundet (The Swedish Artists Association) and of Paard Verzameld - the largest platform for equine art in the world.
Li Gessbo, 1970, Swedish. Medium: Painting / drawing on canvas or paper. Acrylic, gouache, ink, charchoal, aquarelle, oilpastel, collage.
www.gessbo.com
IG: Gessbo
FB: Arte di Gessbo
Information on the work
"Childhood memories", Medium: Monotype ink print and pencil on white wood free paper 70 gsm, A4 (29,7x21 cm)
Li Gessbo is a member of the  Paard Verzameld Collective.

Through international collaboration between Paard Verzameld and the Horse Museum Foundation, the painting will be exhibited during the Pratoni del Vivaro World Championships in September 2022.